Good footwear also deserves good care! Regular maintenance prolongs the life of the shoe


Treatment:

. After use, always remove traces of dust, mud and soil with a soft brush when the shoe is dry. For stubborn dirt, use a cloth moistened with cold water.

. Never use solvents, aggressive chemical products or too hard brushes : you could irreparably damage the leather and plastic parts.

. Do not wash in the washing machine and do not use pressure washers, very high temperatures and pressures could cause damage to some components of the shoe.

. The boots must be dried naturally in a dry and well-ventilated place, away from direct heat sources such as radiators, stoves or direct sunlight.

. Regularly apply a specific nourishing revitalizing shoe cream to the leather uppers in order to keep them always soft.

. Periodically use a specific protective spray to ensure the water repellency of leather and fabrics.

Storage:
. Do not store your boots closed in plastic bags or airtight containers during periods of inactivity.
. Store the boots carefully in a cardboard box, in well-ventilated places, free from sudden changes in temperature and away from heat sources, in order to preserve the original shape and softness of the leathers and fabrics. Particularly humid places could alter the functional characteristics of leathers, soles and accessory components.
. It is advisable to remove any internal parts (liners and insoles) in case of prolonged inactivity.
. When storing the shoes, it is advisable to fill them by inserting newspaper inside them in order to preserve their original shape, and fasten them up to the upper hooks.

The leathers used in AKU footwear are of the highest quality, any differences in colour, variations in tone and shading or loss of colour are the typical result of the particular and refined dyeing which makes them unique.
Video tutorials for care and maintenance:
How to clean mud and debris from footwear - click here
How to test the efficiency of the GoreTex membrane - click here
How to apply the spray that protects and makes both leather and fabrics water and oil repellent - click here
How to apply the nourishing and reviving cream for natural leathers - click here
How to replace the footbed - click here
How to replace the fast lacing lace lock - click here
How to replace the lace lock in tactical footwear - click here
How to adjust the position of the lace hooks - click here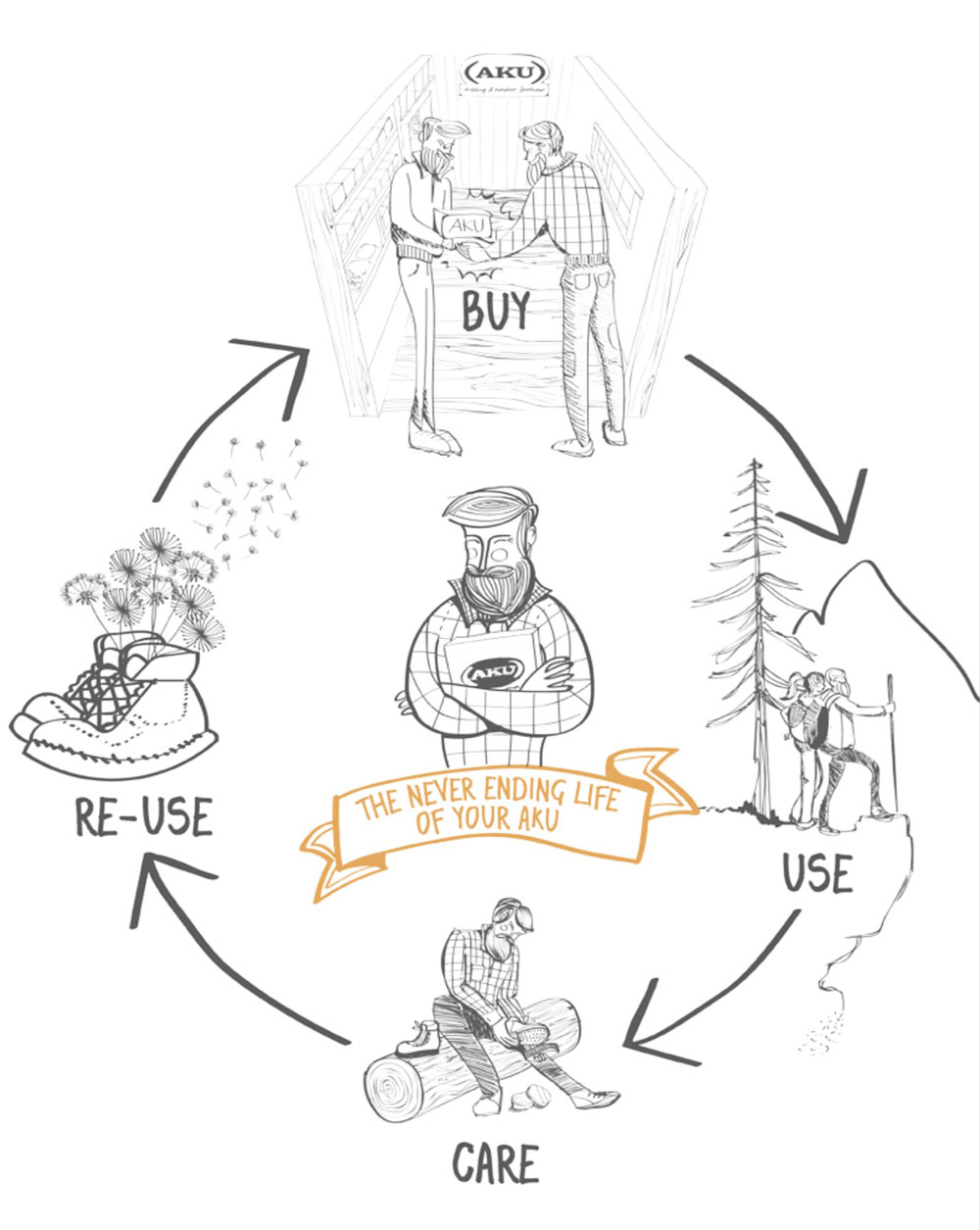 REPAIR
If there are problems in the small parts of your shoe, on the seams, on the upper or on the rubber edges, it does not necessarily mean that you have to get rid of them. We recommend Lancashire Sports Repairs Ltd for any repair needs you have.
RESOLING
Evaluate the state of the upper, if you think it is still in good condition and functional, but the tread no longer guarantees stability and grip because it is worn, it is probably not yet necessary for you to get rid of your pair of boots.
GOOD PRACTICE
Before definitively throwing your boots in the trash, consider that you could use them for gardening, for small jobs in the woods or in all situations where it is possible to use an "end of life" shoe. Otherwise you can invent a way to reuse it…
Send us the photo of the "reuse" you make of it, the best ones will be published on our social networks. You can send them to the email address: [email protected].